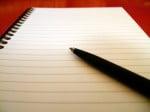 We've talked before about the voices in your head suddenly going silent. But what if they stay that way? You're stuck. A deadline is looming ever closer and there's nothing on the paper but lint. Writer's block is a familiar, albeit dreaded term that every wordsmith knows.
The holidays and all their hubbub are over. It's time to get your butt back in the chair and get on with it. Start over with the New Year. Clean your desk and get rid of the brain clutter, too. Don't let the post-Christmas blues cloud your creativity.
Have you ever painted yourself into a literary corner? Maybe you've reached a spot in your story that you can't go beyond.  A cold, clammy feeling envelops your psyche. "Is it gone forever this time?" you wonder. Don't beat yourself up, there is a remedy.
Go outside for some fresh air and exercise when writer's block strikes. Read a few chapters of a great book (or a stinky one), a blog on writing craft or a few inspirational quotes. Ask a trusted friend to read your work-in-progress and give you some feedback.
When your writing time is fragmented due to work, family, or other commitments, it's hard to refocus. Make a date with your story and keep it. Even fifteen minutes of keyboard pounding is one hundred percent more than no time at all. Waiting rooms and grocery store lines are great places to jot down thoughts and ideas.
If you're stuck because you are not happy with the direction the story is going, reassess. Read over what is already written. Reacquaint yourself with your characters and their lives. Give yourself a creative pep talk and move forward without expectations. Allow your work to speak.
Creative Calisthenics is an excellent book by Terri Main, and a valuable tool for jump starting your prose motor. It all comes down to motivation. If the spirit is willing, the body will follow. In no time at all, your muse will be sitting on your shoulder, whispering in your ear again.
"And by the way, everything in life is writable about if you have the outgoing guts to do it, and the imagination to improvise.  The worst enemy to creativity is self-doubt."–Sylvia Plath