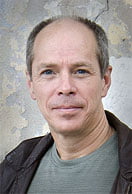 Our 2012 Scene Conference is taking shape fast! We're thrilled to have landed author William Bernhardt as our keynote speaker for the event, which is set for March 16-17. William's bestselling novels explore politics, power, ambition, crime, and the law. He's written more than 20 books and teaches several writing workshops and seminars of his own. Find out more about him at www.williambernhardt.com.
We're also excited to welcome the founder of Smashwords.com, Mark Coker, to our conference. According to a Q&A with Mark at the website, Smashwords publishes and distributes ebooks, and authors and publishers retain full control over how their works are published, sampled, priced and sold. Since the site was launched in May 2008, it's become the leading ebook publishing platform for indie authors and publishers, with over 45,000 ebooks published. (We always get a little hungry thinking about it, though, because the name makes us think of Smashburger…)
There's more at our Scene Conference page. Visit often for updates to our roster of exciting speakers and other conference details. Make plans now to join us in March!